Wednesday, December 2nd, 2009
Travelling a lot this week and don't have time to sit to write a full length blogpost. Thought this would be a good time to take a survey.
Thought I'd raise a question about cyberfriends that was raised by a sister blogger on her blog. Are the friendships we strike up in cyberspace (Facebook, My Space, Twitter, blogs) on par with the real flesh-and-blood friendships we've made over the years? Are our virtual friends with whom we engage in long, heated, but friendly banter with for days, weeks, months, perhaps years on end — are these people real friends?
The question is prompted in part by a piece by James Taylor on cyberfriendships which appeared over on HuffingtonPost:
Of all the areas of life that computer and communications technology seems to be impacting the most is its influence on relationships. Mobile phones, texting, facebook, and Twitter are just a few of the ways in which relationships are being redefined, established, and maintained by technology. We have entered a new era of Relationships 2.0. Read More…
Personally, I don't think virtual friends and flesh and blood friends are the same. But judging from comments by readers on other sites, there are lots of folks out there evidently who think differently.
Hear ye. Hear ye. Cyberfriendships are not real friendships. No offense loyal blog readers. I cherish hearing from you. I look forward to your comments. I appreciate the lively banter we enjoy here on the blog. But I wouldn't know you from Adam if you came up to me here at the restaurant where I'm typing this right now. How can we be real friends? (Boy, oh boy, are my readership numbers going to plummet now. :))  How can you be  friends with someone you've never met? How do you trust a friendship that's made in cyberspace? How can you trust what someone in cyberspace says about herself? You guessed it. No, I don't believe in cyberdating. But that's another topic.
I don't mean to devalue relationships that have been struck up over the Internet. I'm sure there are some moving stories out there about love found on the Internet and about the support, inspiration, and comraderie struck up on the Internet. If friendship is all about love and support, then I guess it is possible to think of a cyberfriends as a real friend. But to call a relationship born in cyberspace and limited exclusively to the Internet sounds sad to me.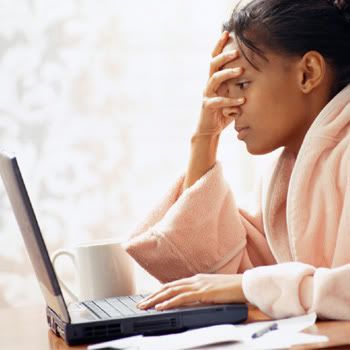 Call me old school, but friendship is friendship not because there's a long history of support, confidances shared, and mutual admiration. A friendship is a friendship more importantly because it has withstood the test of time and misunderstandings, disagreements, bruised feelings, and make-ups.  Yep, there have been plenty of times here on this blog when folks have jumped in one another's chest about comments made and have later come back on to explain themselves and kiss and make-up.  All of us know that mending a friendship in cyberspace can not compare with the awkwardness, the dread, and the pain of mending a "real" flesh-and-blood friendship. Facing a friend you've hurt or who hurt you, and slinging, snotting, and crying it out face to face as you try to work out where things went wrong, who's to blame, and promise to do better—that's the friendship we miss out on in cyberspace. Better yet, that's the personal growth we miss out on when we lack real flesh-and-blood friends.
But that's my opinion. Call me old school. A friend is not someone who signs off with emoticons to make herself appear more friendly than she really is. A friend is someone who was there to jump up and walk behind me to keep others from seeing the spot on the back of my skirt as I walked off.