Tuesday, March 3rd, 2009
After thirty years I still get nervous.  When I have to speak in public, that is. It's easier now after thirty years. But I still get knots in my stomach. What I don't do now is think about faking a seizure.
Years ago I would sit listening as my bio was being read, dreading those fateful words "and the next voice you will hear will be that of…" Even up to the moment of the introduction I would sit dreaming of ways to get out of speaking.  Puke. Faint. Pray that the floor open up and swallow me. But it never did. And I never fainted. My palms sweated. My knees knocked. My heart beat so loud my head pounded. But eventually I got up, and walked to the microphone. And opened my mouth. And the words came. Eventually. Whether I was prepared or whether I felt unprepared. Whether I knew what I was going to talk about, or whether I hadn't a clue what to say. Whether the waiting audience appeared warm and welcoming, or whether they looked  stunned to see the likes of me and oozed hostility at having to hear me out.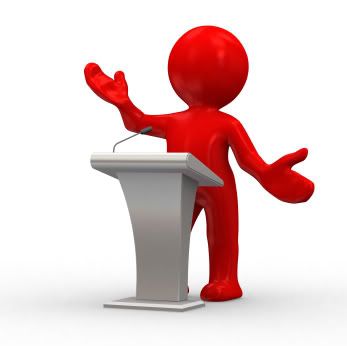 To those of you who are terrified of speaking in public, here's something to keep in mind. Speaking up isn't just about standing in front of a podium and speaking to a large audience. It's about finding your voice. It includes learning how to speak up in meetings, communicate effectively with clients, and answer tough questions posed by colleagues professors, and reporters. It means being able to communicate effectively on the telephone to creditors, customer service reps, and potential clients.  It means being able to speak with credibility and authority. It means to have impact and influence. It means being willing to take a risk, take a stand, and to say what's on your mind effectively. It also means to be able to listen well to others and be able to address the unspoken questions they have. It also means finally to trust the Spirit to use you to say what needs to be said.
I guess this is where I'm supposed to say that everything will be alright. I won't.
Let me say it like this: I've botched my share of speeches (what we call  "flunking" in oratory circles). You know: I mean I rambled.  There was nothing there to hold the speech together. I mean they just didn't get it. I mean it was the wrong speech. I mean I thought I could wing it.  I mean I didn't know how to stop midspeech and correct what I was doing wrong. I've flunked so badly that I dreaded standing around shaking hands with folks afterward and watching as they (those who bothered to come over) fumbled to come up with something kind to say. Thank you. I like what you have on. Nice job. Have a Nice Day. Are you related to some Weems who live down in Florida? I've been so embarrassed afterward that I couldn't wait to get back to my hotel, shut the curtains, and curl up in my bed in the fetal position.
I suppose this is where I am supposed to add that I've also given some pretty good speeches, more good ones than bad ones in fact. Which must be true since I'm still getting invitations to speak.  I suppose I could tell you about some of the accolades I've earned for public speaking. I guess this is where I tell you that if you keep at it eventually you learn what works and what doesn't work,  that eventually you learn how to focus on the people who are listening and not those who look bored out their minds, that eventually you learn how to relax and trust your preparation and your instincts, that eventually you learn how to get out of God's way and let God use you in spite of you. But that's not what I want to say.
Here's what I really want to say. Fear is not a bad thing. Especially when it comes to speaking in public. Fear is actually an internal guardian that was intended to help you intuit danger and help bring to your mind ways to avoid capture.  "Since fear is so central to our experience, understanding when it is a gift–and when it is a curse–is well worth the effort" writes Gavin de Becker in his book The Gift of Fear.
Remember those sweaty palms, that racing heartbeat, and those knocking knees? Good speakers are those who have figured out how to make sweaty palms, racing hears, and knocking knees work for them. The body is sending you thousands of little messages  in the form of adrenaline on how to stay alive. Pay attention.
Here's something else you should know: You are probably better speaker than you think. It's just that you're your own worst critic. Sometimes your worst speech or sermon or lecture was your most memorable speech or sermon or lecture. It's not what you think you did or didn't do, it's what others believe they heard. Here's what I've learned in these thirty years. People forget speeches. What they remember are lines from speeches, a remark that rang in their spirit, a comment that froze them in time, a story that touched them in deep places, the spirit of the speaker that spoke volumes more than words. Speeches end and are forgotten, but words stick in the heart.
Years later a letter comes in the mail, or someone corners you in the bathroom. "I never told you this, but I heard you give a speech years ago and something you said in that speech changed my life forever." And what do you know? It was the very speech you've spent your life trying to forget.
"But we have this treasure in clay jars
to show that its extraordinary power
comes from God and not from us."
(2 Cor. 4:7)
________________________________________________________________
So, what in your opinion is the most nerve wracking thing about speaking in public? What frightens you about speaking out? Those of you who do speak in public, how did you overcome your fears? (Pssstt…keep it brief.)