Tuesday, February 26th, 2008
A poll on one of my favorite blogs yesterday asked how many of us intended to tune into to watch  "Raisin in the Sun" on ABC later that night. I left a message saying that while I had the utmost respect for all the actors (except for one) I for one had no plans to watch the ABC remake. I loved the original version and its cast too much.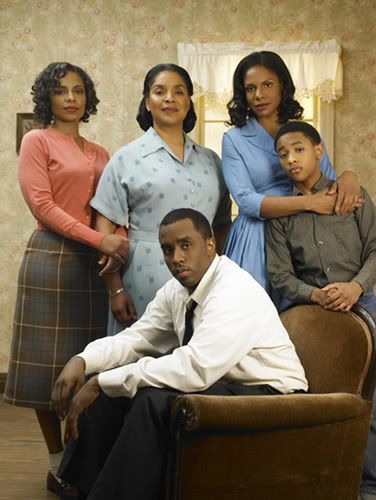 At the time that I took the poll I forgot I had a teenage daughter. My daughter spread herself out on the couch last night watching "A Raisin in the Sun" being performed by a cast she recognized and identified with. Her cell phone beside her was quiet. Neither she nor her friends sent each other text messages throughout the movie. After I was done occupying myself around the house, my curiosity got the best of me. I joined my daughter on the couch. Making certain to keep my grunts and eye-rolling to myself when a certain male actor failed in my opinion to bring the depth of emotion to the part I was accustomed, I sat reliving the original movie. My daughter had nothing to compare this cast and movie version with, and perhaps that was a good thing. I decided to leave well enough alone and be thankful that she was being introduced to the talents of a literary giant. 
Born in Chicago on May 19, 1930 Lorraine Vivian Hansberry wrote once in a private journal of hers, "Eventually it comes to you, the thing that makes you exceptional, if you are at all, is inevitably that which also make you lonely." Hansberry's genius was not simply in her talents as a playwright, but also her ability to use art to raise timeless issues. Hansberry was a woman ahead of her time. Imagine touching on race, feminism, class, colorism, colonialism and homophobia in a way that would bring black people to Broadway in throngs. All in1959.
Writing about his friend Lorraine's famous play James Baldwin observed, "In Raisin, black people recognized that house and the people in it– the mother, the son, the daughter and the daughter-in-law–and supplied the play with an interpretative element which could not be present in the minds of the white people…"
Lorraine Hansberry was eight years old in 1938 when her family purposely moved into Washington Park, a white neighborhood that bordered the University of Chicago. They challenged Chicago's segregation laws. Her father was a real estate broker and later won a landmark anti-segregation housing case before the Illinois Supreme Court. Her play, A Raisin in the Sun, was loosely based on this case. 
Hansberry's career began as a reporter/writer. Coming as she did from a long line of activists and intellectuals, it made sense that one of her first jobs was writing for a newspaper called Freedom, an African-American newspaper. She later worked as a waitress and cashier, writing in her spare time. One of her writings was A Raisin in the Sun, which debut on Broadway in 1959. A Raisin in the Sun was the first play written by a black woman to be produced on Broadway as well as the first play with a black director Lloyd Richards) on Broadway.  The play's original cast was made up of Sidney Poitier, Ruby Dee, Claudia McNeil, and Diana Sands.  Lorraine Hansberry was only 29 years old at the time.
Raisin earned Hansberry the New York Drama Critics Circle Award making her the youngest and first black to receive such a distinction by the theater world.  Although she would die from cancer six years after Raisin's debut on Broadway, Hansberry did live to see the play be turned into a movie starring several of the play's original cast. Deeply committed to the Black struggle for equality and human rights, Lorraine Hansberry wrote other wonderful plays but none achieved the fame of Raisin.
 Sidney Poitier admits in his autobiography The Measure of a Man (2000) that he and actress Claudia McNeill, who played matriarch Lena Younger, locked horns continually in the play. Poitier felt that the play should not evolve from the mother's point of view, but from the point of view of the son Walter Young, Jr. whom he played. But Claudia McNeill,  a force to be reckoned with, felt differently.  It's obvious from the scene below that the tension between the actors spilled over into their performances and helped to give the play its dramatic edge, leaving audiences to debate and decide for themselves for years to come which is the play's dominant point-if-view character, Walter Lee or Lena Younger.
What do you think? From whose perspective is Raisin in the Sun best told? Lena Younger? Walter Lee Younger? Or could it be Ruth, Beneatha or Travis?