Wednesday, June 17th, 2009
I began this post thinking I'd give a shout out to nurses. I sat
still long enough last night to catch a new medical drama television series about nurses starring Jada Pinkett. The series is called HawthoRNe. Hawthorne is one of three new medical dramas debuting this season centering on hospital nurses, this one starring Pinkett who plays hard-a** head nurse Christina Hawthorne. (Anyone here old enough to remember actress Diahann Carroll playing the first professional black woman and nurse on TV  more than 40 years ago on the series "Julia"?) Okay, so last night debut of "HawthoRNe" was a bit hackneyed with Pinkett playing the most hackneyed role of all as the competent, compassionate, caring, conscientious, no-nonsense, workaholic head nurse who has little tolerance for administrators, doctors or rules that come between her and her care of her patients. But I'm willing to give the show time to find its identity and work out its kinks. After all, any show is better than the current line-up of sorry TV shows starring black actresses and black actors. If "HawthoRNe" hasn't improved by the end of the summer, I'll come back on and pan it.
For now I'm happy that there's a TV medical drama that focuses on nurses. I'm happy because I have a daughter who dreams someday of becoming a nurse,  and I'm looking forward to watching the show with her every week. And I'm especially happy, for my daughter's sake, that she grows up, like I did with "Julia", seeing a black actress starring in her own series as a nurse. No, I'm not a big fan of Jada Pinkett. But that's not the point right now.
So you see why I started out wanting to write about nurses. But then I changed my mind.
Here's a special shout out to women healers everywhere.
Nurses come from a long line of women healers. From the beginning of time women have performed the role of healers. Natural healers, in fact. As caretakers and homemakers, those assigned to care for children, the aged, and the infirmed one might say that women were in all likelihood the first healers in the world. In fact, women have always been healers, unlicensed doctors, herbalists, abortionists, midwives, roots women, doctors without degrees travelling from home to home and village to village caring for the sick. Having studied the body and having learned the healing mysteries of plants and nature, women healers were called "wise women" by common people (Jeremiah 9:20).  But they would soon go on to be called "witches" and "sorcerers" when men begin elbowing their way into the profession and sought  to demonize and put down women practicing without license in order to convince patients to trust male health professionals over self-taught women healers .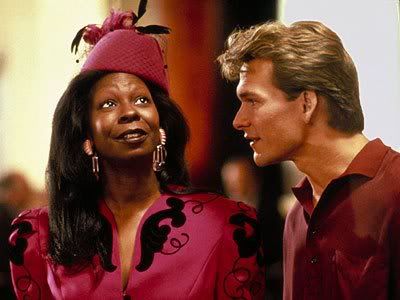 Thinking more about the matter, here's yet another shout out to a woman with healing hands from my past: Victoria Franklin (affectionately known at church as "Ma Franklin"). She did what I want to believe my own mother would have done had she still been alive at the time. Ma Franklin came over to my house to see about me after I gave birth to my daughter.  I was alone with a newborn. (Did you know that only in the industrialized West do new mothers  return home with newborns and and no female support system to help her?)
Fresh from the island of Trinidad and in the states visiting a daughter who'd had a baby a month earlier, Ma Franklin came when my husband (also from Trinidad) called to say that I was still having pains weeks after our daughter was born. Ma Franklin showed up at my door with her "medicine bag" with her. She took one look at me and instructed my husband to find a bucket, place it in the bathtub, and run hot steaming water in the bucket. The two of them then helped me to the tub whereupon Ma Franklin poured the contents of a bottle she had in her hands into the bucket and instructed me to climb in and sit over the bucket for as long as I could. And I did. With a Ph.D. hanging there in my study and despite the fact that I was a seminary professor at a local university, I climbed in that tub naked, stooped and sat over that bucket of steaming water with its soothing menthol scent rising in me and released myself to the healing ministrations of a woman with centuries of wisdom about what to do about postpartum complications.
And then I cried– for all the wisdom that gets lost in the pursuit of knowledge.
The gouging cost of health care in this country and the uberprofessionalization of our medical personnel tell me that we need more women in our neighborhoods like Ma Franklin. Wise women. Natural healers. Women (and men) who carry within their buxom the secrets of natural healing and folk medicine, knowledge of herbs and plants and common sense healing practices needed to treat headaches, menstrual pain, morning sickness, asthma, allergies, diarrhea, burns, ear infection, flu and cold, hair loss, bee sting, and the heartbreak of unrequited love.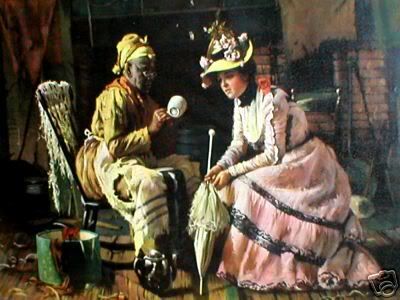 God bless you Ma' Franklin there in heaven. God bless women healers, folk healers, and everyone woman who fretting over what to do about the sick neighbor down the way were mislabeled witches, sorcerers, roots women, devil worshipers, country healesr, silly old women, and quacks for consulting God and nature and stirring up potions.
Join me in celebrating the folk healing practices of our ancestors by sharing some natural healing remedies you know about. (Cough. Cough. In the litigious society in which we live it must be said that no one on this blog is responsible if these home grown remedies do not work for all who apply them!)