Tuesday, June 3rd, 2008
A reader-friend of mine sent an email this weekend asking when I was going to blog about "Sex and the City"?
My response:
Sex and the City?
Sex and the City?
Sex and the City?
Meaning: You're kidding, right?
Meaning: I never bothered to watch the television series. Why would I plop down hard-earned money to see the movie?
It seems that my friend and some of her friends were planning a ladies' night viewing party for the film's opening night (May 30th). "The girls and I are getting all dressed up with advance tickets to pretend to live like these women for two hours," she wrote. 
"Sex and the City"? What am I missing here?
Don't get me wrong. I like sex. And I am definitely a city girl. Heck, I was once single, in my 20s, and living and working in New York City. Of course, that was a couple of decades ago. Still, I remember. But I don't get all the hoopla over "Sex and the City." Too, too, too… what's the word? Too much angst, especially sexual angst, for my patience. Perhaps I'm showing signs of my age. If I am, so is the cast. Don't let the lights and all that make-up fool you: the film's stars are ancient by Hollywood's standards — Sarah Parker and Kristin Davis are 43, Cynthia Nixon is 42 and Kim Cattrall is 51! But I digress.
My friend's response:
"That's amazing, there's so much focus on the needs of women (in the movie) I was for sure you would have insight!" She went on to insist that the movie was about more than men, sex, shopping, and stiletto shoes. It's also about friendship.
That last sentence was supposed to get to me. And it did. She knows I'm a sucker for a movie about women's friendship. But still I wasn't convinced.
I sent another email with the prayer: Please Lord make it so that even without being a fan of "Sex and the City" I can still do a pretty credible job talking about "the needs of women.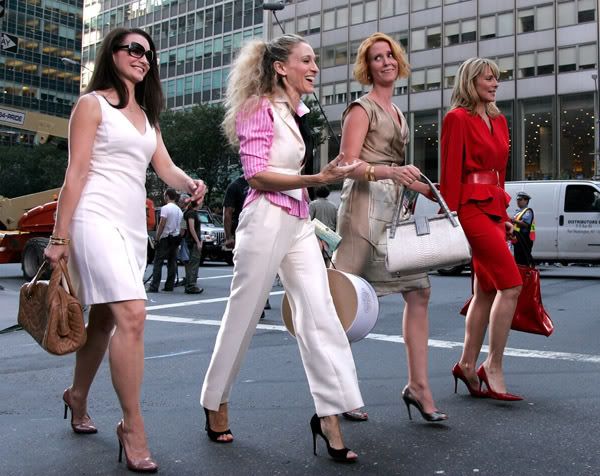 My friend wrote back later raving about the movie.
So did my teenager daughter who managed to slip in with some friends to see the movie. How did I find out? She sent me a text asking for 30 extra minutes over her curfew because "Sex" was longer than she expected. I nearly broke my neck trying to get out my house to go and find my child before I caught on to the fact that she was talking about the movie.
So, 'fess up: have you seen "Sex and the City," the movie? Did you enjoy it? Do you and your girlfriends identify with the sassy ladies of "Sex and the City"? What am I missing? By the way, did "Dreamgirls" Jennifer Hudson appearance add enough color to give the movie the realism and diversity some complained the television series lacked? Just wondering how women of color rate the movie and what they get from it.