Monday, March 30th, 2009
For every woman and girl who looks in the mirror and wishes she could change this or that about her body:
God, this is MY BODY.
She is an expression of Genius.
This is MY BODY.
She is more than fatigue, infirmity, soreness, cellulite, estrogen loss, and drooping breasts.
Lord, I want to LIVE in my Body.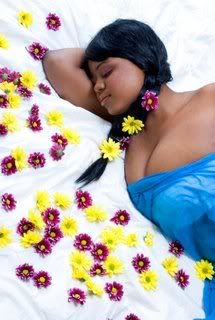 Cleanse me of every thought that makes me
shame of my body.
Help me to experience LIFE
in my heart,
fingers and toes,
bosom and legs
arms and thighs
buttocks and uterus
lungs and belly
ignite a quickening fire in every cell of my body.
For I am
a woman in a Body.
My body.
I am the bird of Paradise.
I am consort of the Lion of Judah.
I am a 12 winged accolade to African women who died while trying; cried beyond tears; and loved when it hurt
There is Life in my Body.
Holy
Free
Creative
Beautiful
Life
May I never again be ashamed
For this is My Body which is
A Gift of God
A Sanctuary of my Divine Purpose, and
an Expression of the mystery of God.
This is My Body.