Monday, April 20th, 2009
At a day long conference out in California, hence I'm unable to blog today. But that's no reason to drop the conversation altogether, is it?
Let me put to you the question put to us panelists at this conference: What is the present state of preaching? What's the future of preaching in the church in the North American context?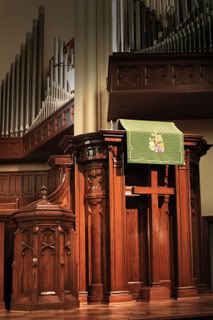 All this reading, thinking, and reflecting on the topic has me asking myself, what makes a sermon a great sermon? And even if that can be answered, another question arises? What makes a sermon memorable? Why do some sermons stay with you, tumble around in your soul for days, weeks, or years after you heard them, gnawing at your conscience, feeding you with new insights, while other sermons, even great ones,  vanish from the ears a few minutes, days, after hearing them?
A sermon is only as great as it moves listeners to do something. To be-come different. To act differently in the world.  To change — self and the world.
As a child of the black church, God knows I have heard my share of sermons that have stirred my emotions. I've laughed, I've clapped, I've smiled, I've stomped my feet, I've nodded my head and moaned.  And, yes, I've even my thrown my head back and cried "Glory."
But truly great sermons are ones that make me imagine a different world, a counter-reality, a better world, a transformed world, one more just and holy than the one I presently live, a world rooted in God, but one requiring me to do my part to bring it into existence. Great sermons leave you with an assignment. Great preachers know how to use words and imagery to  transport you to a place where you can imagine yourself existing in love, peace, justice, and goodwill toward others.
Great books need great readers, the novelist Toni Morrison once wrote. The same can be said about preaching and  sermons, I suppose.  In order for a preacher to preach a great sermon, with any regularity, assuming she's capable of doing such at all, she needs an audience that demands something of her, expects her to dive deep and surface with treasure. Great audiences expect her to go beyond herself to a place where only God and imagination can take a preacher, and to bring back news of what she beheld and what awaits her audience if they would allow themselves to go there too.
Gotta say, it's been years since I've heard that kind of preaching. The exigencies of time, church obligations, and religious occasion have seen to it that my own sermons often fail to live up my own expectations of great preaching.
Oh well, like I said I'm in a conference this week on the state of preaching. I'll leave inspired either to do better or go back to ushering.