Wednesday, September 9th, 2009
I know, I know: here it is three days later and I'm just now coming on to the blog to say something about the national holiday we just celebrated known as Labor Day. Hey, what can I say? I was working.
As someone who for all practical purposes is self-employed, let me pause here and thank God for keeping work pouring in to my office. Thank you God for every invitation to speak, write, lecture, conduct workshops, consult that lands on my desk (even those I have to turn down). Have ministers, writers, and public speakers like myself been affected by the downturn in the economy? You betcha. But when you've been doing what you've been doing for as long as I have (seniority has it benefits), and learned long time ago the wisdom of knowing how to do lots of different things (so as to generate multiple streams of income), you manage to eke by in times like these.
To quote my great aunt Dora, "It's a mighty poor mouse that ain't got but one hole to run to."
In fact, here's to the many jobs I've had in my lifetime. Cleaning houses (yep, worked alongside my stepmother when I was a teen); Dairy Queen (in high school); factory assembly line (summer college job that paid me a whopping $400 a week); college work study in the library and the astronomy lab; housesitting and hospital admissions clerk (in graduate school); my first job after college as an accountant/auditor; stockbroker (my second job); seminary job (my longest gig); minister and public speaker (my sacred gigs); writer (my dream gig);  academic and writing consultant (my recent gig); mother and wife (my most infuriating, and yet most satisfying gigs).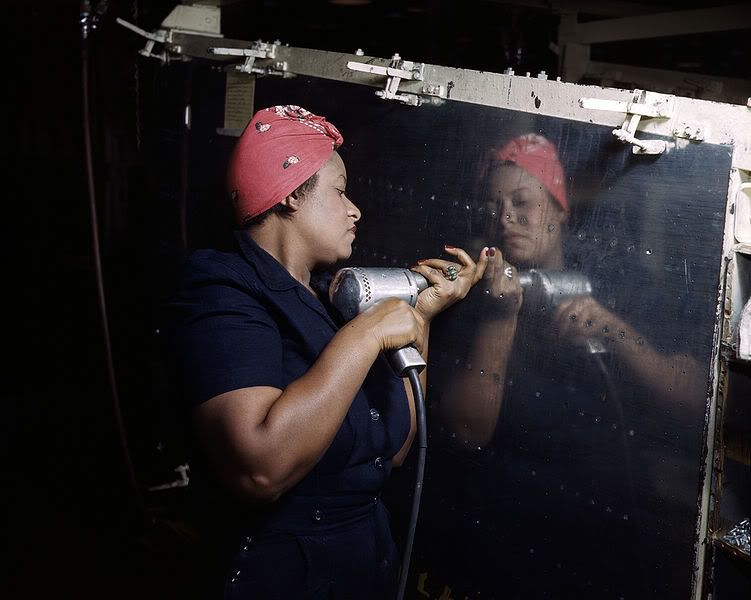 As you can see, not all the jobs I've held down were glamorous. Actually, most of them weren't. But each did its "job" in shaping me and in instilling in me a sense of competence, self-confidence, and  self-reliance.  I've worked since I was a teenager, something completely foreign to the teenager-who-lives-in-my-house who thinks  a job is something you go out and get so you can buy extra pairs of earrings and those shoes your Mom won't buy for you. She knows nothing as a teen about work, like I do, as something you have to do to feed and clothe yourself because your parents simply can't afford to because of all the other mouths in the house to feed.
I know some of you have wondered on occasion why a feminist/womanist writer, minister, scholar like myself keep bringing up quilting, cooking, and other domestic talents once thought beneath thinking, professional women. It's because I'm worried. I'm worried because no body seems to know how to DO anything anymore. I meet women in crazy abusive relationships who can't break away because their  work as receptionists or schoolteachers don't bring in enough income to build the stash they need to finance their escape. And they don't know how to do anything else to supplement their income. I know women who brag that they can't cook or sew, and then wonder why they can't  save any money. I repeat: I'm worried. I worry about the boys in my neighborhood who dream of earning a scholarship to a Division I football college next year even though they can barely read and have no trade to fall back on.
I broke off a relationship with a guy who was in law school many years ago precisely because he couldn't Do anything.  Except read law books. He couldn't change a tire, change the oil in the car, or change a light bulb.  He was as scared of roaches as I was. Okay, so there were other things about him I didn't like. But my point remains: I don't bond well with folks who can't be counted to be able to Do anything in times of disaster.
Labor Day week offers us all a chance to meditate on the changing nature of work in America. Back when factories dominated, Labor day posters were filled with beefy forearms. That's because work on assembly lines relied on brawn. Labor Day boasted of men and women who didn't mind flexing their muscles to earn a living for their families. Remember Rosie the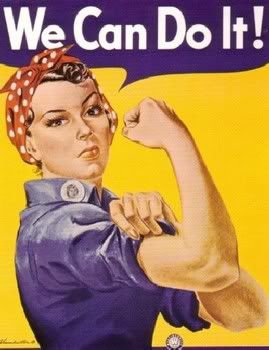 Riveter, that famous depiction of the archetypal American woman who took up working in war factories during World War II to help their country, to feed their families, and to fill assembly line positions once held by men who were off at war? Rosie the Riveter became a feminist icon in the US, and a herald of women's economic power. You don't need muscle to work on most jobs in America these days, but you do increasingly need a high IQ and white collar know-how to make a comfortable living in this country.
Make no mistake about it, work is changing in America.  The labor market has suffered its most wrenching changes in a generation over the last year, shedding millions of jobs and permanently changing the employment landscape in this country. But the downturn in the economy is only partially to blame for what many see as a seismic shift taking place in employment and the economy in this era.   Work is changing, and who works and who doesn't is changing. In the not so distant future, experts say, good jobs will only be available to individuals with complex skills in fast-growing sectors like information technology or medical technology. The most drastic changes will be the irreversible disappearance of jobs that tended in the past to provide rewarding employment for average human beings, with average intelligence, and average schooling.  Like everybody you and I know. Assembly line work, for example. Equally worse will be the irreversible loss of jobs on the lower rungs of skill and wages, jobs that used to offer marginal groups in society — the minimally educated and immigrants–a chance to support their families through wage employment.
I drive up to the airport and look for my favorite baggage attendant, the one who usually sprints out to my car when he sees me and helps me with my bag because he knows who the weekly travelers are that tip well for prioritizing getting them checked in and moving quickly to their gate. But he's not there this time. Economic and technological forces have stripped him of his job. I drag my luggage inside the terminal and check myself in with the swipe of my credit card there at the kiosk and wonder how he's making it these days.
One call to my cable provider and the problem with my HD channels was fixed by the technician by a flick of the button there in her carrel. No cable guy had to be dispatched to my house.
I worry about the teenager who can't snag a job this school year bagging groceries down at the local supermarket because of people like me who prefer fast and easy self scanning machines to waiting in languid and long lines for a clerk to scan my groceries and a teen to bag them.
Did I mention that the only reason I'm pretty good at googling and finding the answers to software and hardware problems I encounter is because I don't like haggling with computer customer service representatives in India who pretend to know and speak English and obviously don't when you have a dilemma requiring more than "please reboot your computer" as the answer?
I tell that teenager-who-lives-in-my-house that one of the benefits of learning to clean her room, along with the rest of the house, is that she may find such a skill handy one day when she needs a side hustle like a cleaning business to supplement the income she hopes to make from that high powered office job she thinks she's going to land as a result of all the degrees she's banking on her parents paying for. "You better come in here and learn how to prepare these dishes I'm making and pay attention to these stitches I'm sewing because the world is changing" I yell across the house. "Get an education, but you better be in a position to generate multiple streams of income. You pretty now, but you won't be pretty forever. Shaking your booty for a living don't pay but so much. When one gig falls through (whether that be lover or employer), you better know how to create your own wealth so you can feed your self girl."
To quote my Aunt Dora, "It's a might poor mouse that ain't got but one hole to run to."