Monday, January 5th, 2009
Let's start the year off with positive news, shall we?.
Oprah has been talked about several times on this blog. But let's applaud her for her end-of-year  $365,000 donation to the Ron Clark Academy an inner-city school located in one of the city's poorest neighborhoods in Atlanta. It's a gift the school and its students will remember for a long time. The check arrived in a Federal Express envelope with a note from Winfrey to Clark applauding him for the "profound difference you're making with your passion for teaching."Winfrey's gift to the Ron Clark Academy was only a small part of the 8 millions she donated to education projects in 2008.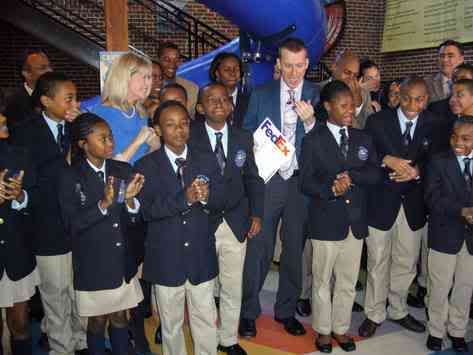 Clark and his students became overnight Internet stars during the presidential election when a video of the students performing a political rap song they wrote grabbed the public's attention on YouTube. The children ended up performing the rap, called "Vote However U Like," on national TV shows including CNN, BET and The Oprah Winfrey Show.  Teachers at the school frequently use rapping, dancing and drumming to help students learn.
Here's to women of means like Oprah Winfrey who use their money to effect change in the world.
A  study from ING, working with Essence magazine, explored black women's attitudes toward money early last year. The participants, all black women, said they worried about finances more than their health, appearance, job, or relationships. Here are some highlights:
47 percent of black women surveyed said it is difficult to have the lifestyle they want because of financial obligations to immediate family.
More than one third have loaned more than $1,000 to friends or family in the last year.
71 percent said it was "very important" to donate money to their place of worship.
41 percent feel guilty about how much they spend on expensive brands.2 in 5 reported total savings of less than $10,000.
2 in 5 reported total savings of less than $10,000.
Women have been the biggest charitable givers for centuries. I love the story in Luke 8 which talks about 3 women, Mary Magdalene, Joanna and Susanna, who followed Jesus's ministry and contributed generously to it out of their means as working women and women of independent means.
Did you know that millionaires like Winfrey attend philanthropy classes that teach them things like how to give, when to give, and why they ought to (must) give.   And not just for tax purposes. Nor just out of obligation. They learn how to use their money to build a legacy. They learn how to use their money to support causes they believe in and to change society.  Put your money where your mouth is. But they also learn that money has a spirit. Oh yeah. You don't have to be religious to know that. It's a law of nature. Give and the universe notices. Give and it comes back to you. Give and it shall be given to you.  So, here's to Oprah.
So, what did you give to last year? How much money did you give away? What do you believe in enough to support with substantial donations? You don't have to have Oprah's millions to donate this year to the causes you believe in. To put your money where your mouth is. To put your money where your heart is.