Monday, August 24th, 2009
I promised to send this 1989 photo of Prathia to a sister blogger over at Prathia's Daughters a blog dedicated to women in ministry committed to social activism. The photo of me standing beside women I admire and have befriended over the years is one of a number of photos I keep nearby me here in my study. Taking the photo out of its frame and scanning it into the computer for  Prathia's Daughters and looking at it again and again has brought back sweet memories.
The photo was taken 20 years ago at my 1989 graduation from Princeton Seminary.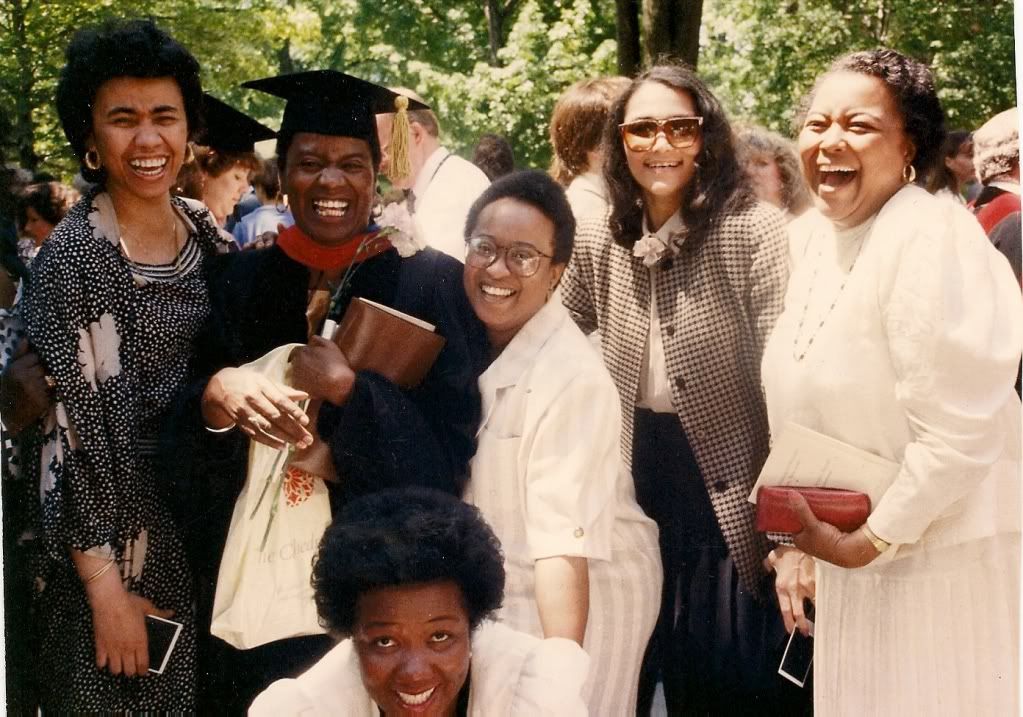 I had the dubious distinction that year of becoming the first African American woman  to earn a Ph.D. in Old Testament. At least that's what they tell me. That's what the history books say. Of course, none of that was on my mind at the time. I had gone to school like they told me so I could get a good job. The job I wanted at the time was something that combined my interest in religion with my desire (since childhood) to teach. I had no earthly idea at that moment what all that meant. But I would soon learn.
I'd managed to skip attending the graduation ceremonies from my undergraduate college and the one I was supposed to attend when I completed my master's degree program there at Princeton. Why did I not go? Bourgeois affairs. Counterrevolutionary. Rituals I had little to no use for. Or, so I reasoned. Seemed like good reasons at the time. The truth was that none of my peeps  had the money or wherewithal to come north for my graduations. So why bother? But thank God for friends. My then and now good friend M. Elaine Flake, standing there to my left, insisted that I march in the graduation ceremony and be hooded as a newly minted black Ph.D. I seem to recall in fact that she threatened to disown me if I didn't. She got that this was a historic moment even though I didn't at the time. Sure enough Elaine showed up for my graduation. As did other friends.
Thank God for friends who were then and are now smarter and wiser than I am.
To my immediate right is Rosemary Bray (McNatt).  We were girls pretending to be women back in the 70s there in New York City.  (Can you say "Sex and the City"?) How did we meet? I seem to recall that Rosemary had posted a note on a bulletin board at a well known feminist bookstore there at 92nd and Amsterdam asking whether there were other black women out there who wanted to join her in starting a black women's literature reading group, and I gave her a call. (This was back before email, Facebook, and cell phones, y'all.) I was working as a broker at Merrill Lynch at the time, and Rosemary was an editor at Essence magazine. We met and became fast friends. In her capacity as an editor at Essence Rosemary was able to see to it that my first article would be published in Essence magazine. Thanks Rosemary. I owe you.
To Rosemary's right is the indescribable Debyii Subabu Thomas, an AME minister and now professor in the Communications department at Howard University. At the bottom of the photo, her bushy 'fro peeping out, is my fellow AME friend Paulette Coleman, art educator and urban planner, whom I've known since we were students in Cambridge, Massachusetts and both members of the Artisha Wilkerson Jordan Missionary circle of St. Paul AME Church. That's right. Long before I was a minister I was a missionary in church. That's where women clergy got their start back then, in the various women's auxilaries in church. Things are different now. Now you don't even have to have spent any time getting to know women in the church, you don't have to like church, and you don't even have to know God to go into ministry these days. But that's another story.
There to the extreme right in the photo is Prathia Hall Wynn.