Friday, February 27th, 2009
I am convinced that in a previous life I was an African market woman who specialized in making and selling dazzling cloths. "Madam, Madam, over here. Come and see."
I LOVE beautiful fabric. Reams. Bolts. Yards. Pieces of fabric I fell in love with for the sheer beauty of the texture, color, or design can be found draped over a chair or table in nearly every room of my house. Some pieces are mounted on my walls for the sheer pleasure I gain when I see them when I enter a room. I should have been a milliner.
Silk. Satin. Linen. Brocade. Organdy. Damask. Raffia. Batik. Kente.  Mudcloth.
Special shout out to fellow fabric addict Rev. Renee Keels and the "Sisters in Stitches Joined by Cloth" for the fabulous quilts they make and those they donate to worthy causes.  Based in Boston, "Sisters in Stiches Joined by Cloth" is the only African-American quilting guild in New England. The African inspired quilt below was done by Renee's Quilted Creation and donated to My Sister's Keeper an organization created to reach out to the women of Darfur and to provide assistance.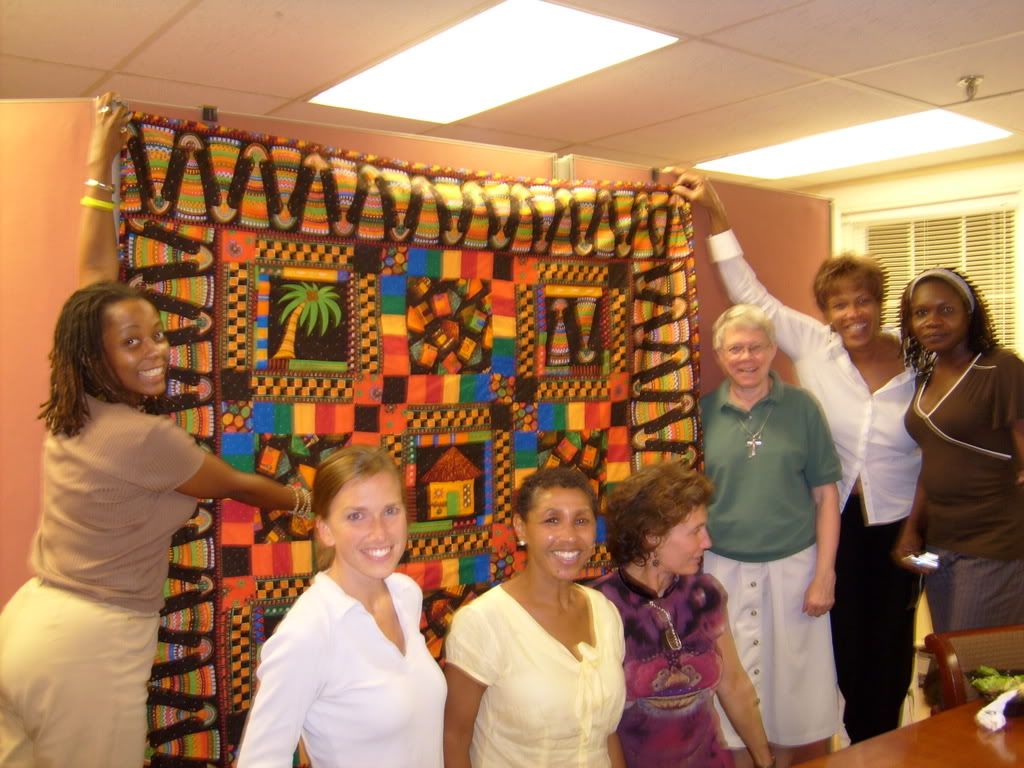 Finally, I mentioned in an earlier post that I've taken up a new hobby. Quilting.Last night was the third class there in the church's basement. Whenever I pull out my fabric pieces for my quilt I feel like Lydia an enterprising sister in Acts 16: 9-15 who figured out how to whip up dazzling purple dyed fabrics to sell to the wealthy patrons of her day. For now I'm just enjoying spending late Thursday evenings with other women there in the basement of our church cutting, sewing, and laughing across the room at each other. Given the state our economy these days, revisiting some old high school home economic lessons and refamiliarizing yourself with your grandmother and great-grandmother's art of recyling scraps of fabric and making a family quilt makes a lot of sense.
Here's a sneak peak at the quilt I'm working on. Special thanks to my teacher Judi Worthan Sauls. Last night's class focused on how to mount the quilt pieces onto felt cloth so we can get an idea of the lay out of the pattern before beginning to stitch.
I think I'll spend the weekend doing a little quilting and stitching. Making use of the other side of this old brain lodged here underneath all this silver grey hair. The creative side. The side that keeps me closest to God.
"In the beginning God created…"
__________________________________________________________________________________________
The photos above of the woman balancing a sewing machine on her head and the one balancing a stack of fabric on her head are taken from a book  which would make a wonderful gift to give anyone you know who loves fabric and quilting, especially African inspired quilts: Quilt Inspirations from Africa: A Caravan of Ideas, Patters, Motifs, and Techniques by Kaye England and Mary Elizabeth Johnson.