Thursday, April 2nd, 2009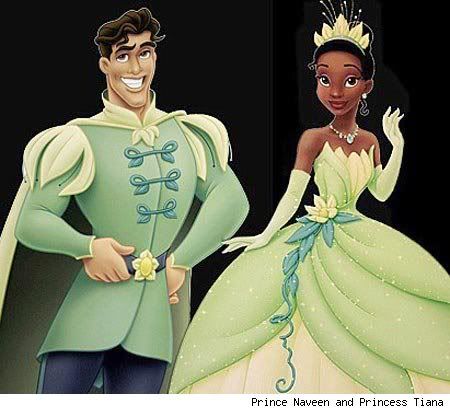 Well, what d'ya know? It seems that Disney has finally gotten around to including an African American in its pantheon of royal animations. 'The Princess and the Frog,' set in New Orleans and featuring an African American Princess Tiana, is set to be released later this year in December. Strangely, while Prince Tiana is black, her dashing prince is…well…gosh…darn…I don't know what he's supposed to be? Do you? Anglo-Rican? Some unknown Brazilian actor with a slight Spanish accent does the voice over for the goofy looking Prince Naven of Maldonia. What's wrong with a black prince?
Well, everyone knows –including Disney, evidently — that black men, especially ones that are princes, don't much choose dark-skinned black women to be their princesses (unless you get a prince by the last name of Obama, of course).
But let me not be petty.
I haven't had a chance to check, but I'm sure the scores of blogs here in cyberspace that promote interracial dating and marriages as the way black women should go (and, boy, are there a lot of them!) are hailing Disney's "The Princess and the Frog" as a sign from God. Maybe they are right.
This newest animation is certainly a sign of the so-called "post-racial" times in which we find ourselves coming as it does after the election of a bi-racial president.
Oh well, I guess black women and girls should feel special. Not only is Prince Tiana Disney's first black princess, she's also Disney's first American princess.
(By the way, actress Anika Noni Rose does the voice over for Princess Tiana. Oprah Winfrey does the voicing for her royal mother Eudora.)
What d'ya know? The giant of cultural myth making and cultural myth preserving Disney is releasing an interracial love story in animation Just tell me this: Does the movie end with the promise that the interracial couple lived happily ever after?