Wednesday, March 11th, 2009
Okay, like, there we sat the other night eating at our favorite Thai restaurant night chatting and catching up on each other's day. As I was spooning more basil duck onto my plate I noticed that he'd stopped mid-sentence telling me a story about someone he met. I looked up to see him staring out into the restaurant. My eyes followed his eyes. And there they were. Four women sitting with their backs to our table, seated in various places throughout the restaurant. Each of them with their thongs in full view.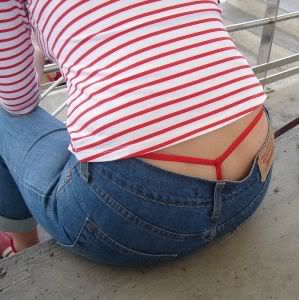 I guess it's no big deal, huh?
I guess it's the style, huh?
I guess looking into women's cracks while eating is something I oughta get used to, huh?
I guess I'm just too daggone old to appreciate what's going here, huh?
I guess you say that because I'm old and don't wear low rider jeans and prefer drawers that cover my bottom, I'm jealous, huh?
I guess if I don't like what I see I should just look away, huh?
Do me a favor. Slap yourself for me. Harder please.