Thursday, May 21st, 2009
Thought I'd poke fun at my Baptist friends today here on the blog. That's right: Baptists. You know the ones who open their mouths and say things like, "I'm Baptist. What religion are you?" Don't get upset: I'm married to a Baptist so you Baptists can't be all that bad. In fact, every now and then you Baptists actually get it right. You actually act like Christians. LOL.
Take the Baptist church in DC where I spoke earlier this week. Okay, I confess: I preached a revival there. I spoke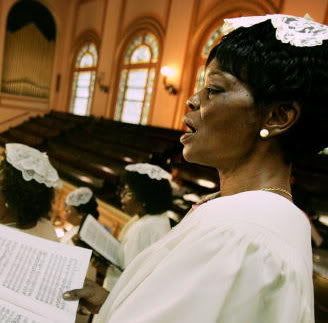 for their two Sunday morning services  and again on Monday and Tuesday nights. Baptists got me to do a revival. Something I rarely, rarely do at this age. I haven't preached a revival in y-e-a-r-s.  Only a special Baptist church could get me to get me to do a revival. And Covenant Baptist Church in Washington, DC is a very special church. For one thing, it has a husband and wife  co-pastor team: Rev. Dr. Dennis and Rev. Dr. Christine Wiley, pastors, scholars, progressive theologians, and activists. Dennis has a Ph.D. in theology (specializing in liberation theology) from Union Seminary in New York and Christine has a D.Min in pastoral counselling from Garrett Evangelical Seminary. It was beautiful to behold the two of them ministering together. Equal authority. Equal burden. Equal pay. That's what I'm talking about.
But having a husband and wife co-pastor team is not the only thing that makes Covenant special. The church is an open and welcoming congregation to all peoples, regardless of race, gender, and sexual orientation.  Of the seven houses of worship in Washington with predominantly African-American congregations that are welcoming to lesbians and gays, Covenant is the only Baptist church that welcomes and affirms gay and lesbian congregants. Gotta admit that the church went through a difficult patch a few years back when the pastors officiated at a union ceremony for a homosexual couple. Hundreds of members left the church because they  unable and/or unwilling to embrace a theology that embraced same-sex loving couples. Three years later the church is growing and rebuilding and a serves as a testimony to God's love for all people. Now I like to think I'm pretty progressive and have worshipped in some pretty progressive environments, but I must say I was delightfully surprised to step up onto the pulpit this past Sunday morning where I was to speak for the Women's Day service and find that the worship leader was a transgender woman in a man's suit . "Alrighty Jesus," I said to myself as I took her hand and smiled. I looked out at a  congregation  which on one hand looked like any other black Baptist church I've visited: young and old, DC natives and transplants from the south, male and female, poor and not-so-poor, young and old. And others. Lesbian and gays, some were couples with children, and some were not. And a sprinkling of white faces. "Perhaps I'm glimpsing what the Kingdom of God is supposed to look like…" I thought to myself as I sat there singing and clapping with the rest of the Covenant congregation.
Finally, special shout out to St. Paul Baptist Church in Philadelphia for breaking with tradition and calling a woman Rev. Dr. Leslie Callahan to be the 5th pastor in the church's 119 years of existence. Dr. Callahan is Assistant Professor of Modern Church History and African American Religion at New York Theological Seminary. Kudos to St. Paul Church and Pastoral Search Committee for their courage and vision. Those of you in the Philadelphia area should drop by St. Paul on Sunday, May 31st should go over and support my friend Leslie on her first Sunday there in the pulpit.  (Can's join her on Sunday, leave her a message on her blog.) Leslie joins a small, but growing number of black Baptist churches across the country who have had the courage and good sense to call women to be their pastors.
Ah yes, you Baptists aren't so bad afterall. I like Baptists today.  Even the one I'm married to.
(By the way, you Baptists: Christianity is a religion, a world religion in fact; and the Baptist tradition is one of many denominations, sects, subgroups within Christianity like Catholicism, Methodism, Episcopalianism, Pentecostalism, etc.)