Tuesday, October 6th, 2009
Thanks to those of you who've been sending not so gentle hints nudging me to weigh in on the buzz surrounding  "Good Hair" Chris Rock's take on black women's hair drama. The film opened this past weekend in select theatres around the country. Rock was inspired to do the film after his young daughter Lola asked him one day "Daddy, why don't I have good hair?" Now that's one of those questions that sends a thinking parent out into the streets wanting to know who in crapola put that kind of thinking into a little brown girl's head.
Black women and their hair. Whew! What can I say? There was the flap a few months back about Tyra Bank's "real hair" episode.  And then there was all the the hoopla over singer Solange's decision to shave her tresses (both the real and the fake tresses) for a close crop natural look. ("What got into that girl to cut off all that good hair?") And then Rock's appearance on Oprah a couple of weeks back and the schmoozing that went on around black hair. And let's not forget that Michelle Obama's hair, and that of her daughters, are a regular topic of consternation for conservatives and one black women feel the constant need to come to the defense of the Obama women and rationalize to the ignorant masses.
I try to stay away from talking about black women and their hair.  But it's not possible always to keep silent about our hair if you're black and female. I try to steer away from the topic because there's no way to talk about it and not offend if you're someone like me who's been natural almost all her life and think natural hair is a no brainer. I've never had a perm. Never crossed my mind.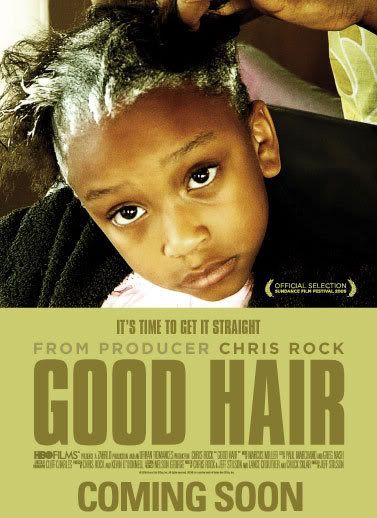 Now we all know that black women are serious about our hair. The beauty supply and distribution business knows it too. Black hair care is a nine billion dollar industry. We buy relaxers,wigs, weaves, detachable ponytails, hair color, hot curlers, ceramic flat irons, shea butter, pressing combs, etc.
With all the beauty supplies in the hood and all the black women flocking to buy hair products, who profits the most from the sale? Certainly not black women.
Just look around the neighborhood. I refuse to go into the Korean owned hair supply store in my neighborhood, and it's not because I have anything against Koreans. The building's outside looks like it's owned by people who  don't care much for their customers and know that their customers don't mind as long as they get to come in for their fix.  The building looks like an armored tank with beauty posters plastered all over it. I can't for the life of me figure out how people work in a building all day where no natural light filters in. Nor I can figure why folks would  go into a store where you can't get a peep at what's going on outside.
Madame C. J. Walker must be turning over in her grave. After suffering back in the 20s and 30s from hair loss, she experimented with various concoctions and made her first million dollars in the 40s selling hair growth products to black women and teaching them how to care for their hair.
That said, instead of posting just another blogpiece pissin' and moanin' about "woe is us wimmins" and complaining yet again about how capitalism (free enterprise) exploits my people (and our beloved naps) I thought do the empowering thing and close by sharing the names of a couple black hair companies I believe in and support. While I'm at it also offer some of my favorite natural hair care websites that offer great tips on caring for black hair.
Whipped Pudding
Burnt Sugar Pomade
Juices and Berry Mist
I love the fact that when I buy from Oyin I'm supporting wife and husband, Jamyla and Pierre Bennu, and their natural hair product business in Baltimore. Jamyla is the mixtress and Pierre the creative media mind behind Oyinhandmade. The two are quirky, fun, but, oh, so serious about making quality products for natural hair.  It takes a couple of weeks for their products to arrive in the mail. That's because they make the products fresh and by hand there in their studio. What I also love about Oyin (which is Yoruba for "honey")  is that almost all of the hair products can be used on both the hair and the body.
Qhemet Biologics: Love it! Love it! 
Alma & Olive Oil Heavy Cream…hmmmmm….
While I get a kick sometimes out of mixing my own hair care potions (shea butter, coconut oil, and aloe vera gel) I rely mostly on others for my hair care fixes.
Now for my favorite natural hair care sites where you can find smart women writing about their hair journeys and offering lots of hair care tips, hair and beauty product reviews, hair care discussions, and fun stories on "a funny thing happened on my way de-frying my brain":
If you want to suggest other natural hair care sites, speak up.
If you have thoughts about Rock's "Good Hair," share them.
If you take issue with anything I've said here about black, speak now.