Monday, March 23rd, 2009
Picked up the  recent issue of O magazine, you know the one with Oprah and Michelle Obama on the cover, and read it on the plane yesterday from Los Angeles. For the first time since the magazine was launched nine years ago, O, The Oprah Magazine features a cover model other than just Winfrey herself.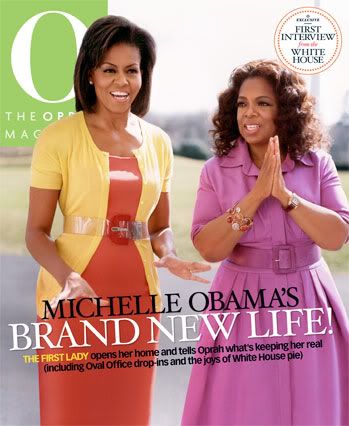 Lots of you have made it abundantly clear on the blog that you don't read O magazine. I don't understand why not. I try to read it whenever I can. It's really pretty good. Great articles. Strong writing.  Striking photos. Okay, so I'm rarely interested in the magazine's fashions. Okay, given Oprah's much publicized battle with weight and with all the talk she does on her show about growing older and wiser you'd expect the magazine to feature more women models with beauty and glamour the average woman can duplicate as opposed to the kind that makes you just stare at, envy, and slam the magazine shut. If you can get past the willowy young women with plastic expressions that fill the magazine, you're bound to find something to read that well worth the magazine's $4.50 price.
I appreciate Winfrey's commitment to feature some socially important topic in every issue. There's always something in the magazine for the thinking, socially conscious woman. I like that.This month? Preserving the earth's resources.  I don't buy nearly as magazines every month as I once did. But I buy and read O because it's the only magazine on the stands published by a black woman. That alone should make it worth our support. And, by the way, it doesn't bother me a bit that Oprah's face has been the only face on the cover for the past 9 years. She's figured out a way to brand her name, her face, and the first letter of her name. What's the problem with that? You go girl.  For all you haters out there, stop hating.
In the April issue Oprah Winfrey asks Michelle Obama about her new life in the White House.  If you're interested in what Michelle Obama has to say, buy the magazine. It's the First Lady's first interview from the White House (a major coup for O magazine).
Here are some highlights of the interview:
* On her first weekend in the White House: Well, we still had family here, so it was almost like a wedding. A huge, very complicated wedding. The last visitors didn't leave until Sunday. And then the first Monday was kind of weird. You know: Now we live here, and Barack is getting up and going to work, and it's just us. This is our home now.
* On who the White House really belongs to: When you go out and come back, especially at night, with all the white lights on — it's just beautiful. We feel privileged, and we feel a responsibility to make it feel like the people's house. We have the good fortune of being able to sleep here, but this house belongs to America.
* On her marriage to Barack Obama: I don't lose sight of the fact that he's the president, but first and foremost he's my husband, my friend, and the father of my children. That didn't change with his hand on the Lincoln Bible. But it doesn't mean I don't appreciate the gravity of what he's doing. The way I can honor that is by working by his side and adding value to what he's doing in any way that I can. that's my part in this.
Buy O, read it, and let me know what you think.