Tuesday, May 12th, 2009
Let's get one thing straight, Oprah. This is not what Jesus had in mind when he said in Matthew 25 that one of the qualifications of those who will inherit the Kingdom, "I was hungry and you fed me."
Perhaps you heard about Oprah teaming up with KFC to launch a campaign promoting a free meal of grilled chicken at KFC outlets? You haven't? Where have you been? A Google search for "Oprah KFC coupon" turns up over 48,000 hits.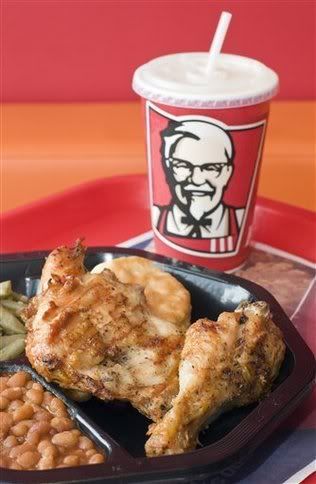 Here's how it went. Oprah and KFC teamed up to promote KFC's new "Kentucky Grilled Chicken" product with a free coupon offering "two pieces of grilled chicken, two individual sides and a biscuit." You and I both know that offering free food is an attention getter all by itself. But it seems that Oprah and KFC were clueless about just how deep a recession America is in. Neither had any idea that millions of people in this country are jobless and hungry. Nor did either know that there are millions of more people in this country who, though neither jobless or hungry, just can't pass up a free meal.
You can probably take a guess at what happened next.
Visits to Oprah's website to get the KFC vouchers nearly crashed the site. Mayhem erupted at KFC outlets across the country. Lines for free chicken were outside the door. Crowds became rowdy when stores ran out of chicken or refused to honor the vouchers. Police had to be called in in some places to restore order.
I don't have to tell you that downloadable vouchers are no longer available on Oprah's website. KFC had to end the voucher campaign, or they were going to go out of business.  Hens went on strike and stopped laying eggs.  (Just kidding.)
And now animal rights groups are up in arms against Winfrey. Winfrey was named PETA's Person of the Year just last year because the talk show host  used the show to highlight the cruelty-free vegan diet that she tried!  Now they're asking how could she use her influence last year to expose the cruel conditions in which factory farm-raised animals live, and this year team up with KFC who gets its chickens from Tyson's Food, one of the worst offenders in the industry. (Or, so says animal rights groups.)
I know what capitalist behemoth KFC was thinking.  It's all about making a dollar.
But what in the world was Oprah Winfrey thinking? She wasn't. On second thought, perhaps she was.  Perhaps she agreed to team up with KFC in light of her recent admission about her own weight struggles, thinking she would be helping to promote good health among her millions of fans –switching from the fried version of the chicken to the grilled. More likely, Oprah teamed up with KFC because, hey, she's a business woman. And that's what business women do. Strike deals and make money.
"White people gets free houses and cars from Oprah," says one black comedian, "but all black folks get from Oprah is free chicken from KFC." That's an unfair observation. Funny, but unfair. Winfrey didn't have any say over who downloaded vouchers from her website.
I can imagine the scene there in New York where, they say, when told that there was no more chicken customers started yelling and waving vouchers in the air and refusing to leave the premises until they got their free chicken.
And, of course, Jesus wasn't around to take those five remaining chicken pieces there at the store, bless them, and divide them among the thousands waiting outside to be fed.
File this one under: It sounded like a good idea at the time. But I (Oprah) was wrong.
What do you think of Oprah Winfrey's support of KFC?  'Fess up. One you were one of the millions who got a free meal from one of the vouchers from Oprah's website?