Friday, May 16th, 2008
A reader recommended Rebecca Walker's Baby Love  a few weeks back when I took a survey of what everyone was reading.  I grew up reading Alice Walker and was eager to find out what had happened to the daughter who was frequently mentioned back then in her mother's iconic poems and books.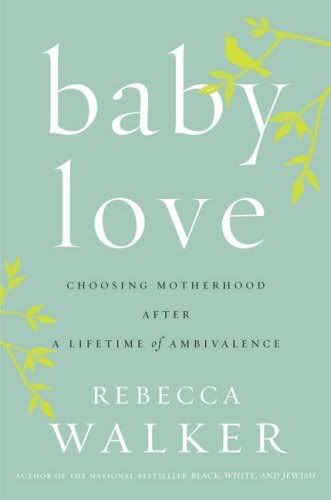 It took me a day to read Baby Love: Choosing Motherhood After A Lifetime of Ambivalence (2007). But it's taken four days to catch my breath and figure what I think about the book's content.
Believe me, getting through the memoir of a self-absorbed,  emotionally starved young woman who spends much of the book writing about shopping, eating, getting pedicures, obsessing over every infirmity in her life, and consulting a small army of healers (birthing doula, homeopath, pedicurist, masseuse) for her every psychic ailment took some doing.  But discovering that her newborn son managed to make it through the frightening medical complications he endured his first few weeks of life was heartening. 
Yet Baby Love did try my patience. But I kept reading believing I would be rewarded for giving myself over to what felt like a black woman's narrative version of "Sex in the City." (I avoided the TV show but  recognize the genre a mile away. Young female narcissm run amok.)
Exploring the abortion she had at 14, her stormy relationship with her iconic mother, her bisexuality, and the ecstasy of bearing a child at 37, the contents of Baby Love (Walker's second memoir) has enough in it to keep the feud between women across the generational divide going for years. Talk about the women we long for!
Rebecca Walker was born in 1969 to Alice Walker and husband Mel Levanthal a Jewish civil rights attorney. The two lived and worked in Mississippi back then trying to change the racist, murderous politics of the time. Rebecca's birth, like that of many biracial babies born back then, was supposed to prove to Mississippi and the rest of America that love trumps race. Alice Walker writes movingly and hauntingly about that period in her life in The Way Forward is With A Broken Heart (2001), about the youthful passion and idealism she and Mel, and others of that generation, clung to, and admits that when it came time some years later to leave Mississippi she and her Jewish husband limped out of Mississippi, broken, disillusioned, and headed for the divorce court. Mississipi won, Alice Walker writes.
Black, White and Jewish: Autobiography of a Shifting Self (2001), Rebecca Walker's first memoir, is the daughter's tale of what felt like her parents' failed experiment, beginning with their failed marriage and ending with the custody agreement the two settled upon that sent Rebecca shuttling back and forth every two years between her father and stepmother's world in New York's conventional, rich, Jewish, Upper East Side; and that of her mother with her bohemian, black, mostly poverty stricken activists and feminists friends in California. Rebecca grew up with deep feelings of not belonging.
Rebecca Walker takes feminism (and her mother) to task in Baby Love for what she sees as one of its most crippling legacies. It leaves young women in their 20s and 30s ambivalent about parenting and romance. Walker sees her book as providing the counsel she wishes her feminist mother and godmothers (Gloria Steinem being one) had given her when she was in her 20s. What advice might that be?
Plan to have a baby as you would plan out your career.
In other words, don't leave having children to chance. And don't let feminists tell you that it's impossible to be a mother and stay sane, active, creative, and productive. It is possible, says the younger Walker.
In contrast to her mother whom the daughter feels found meaning in writing and activism, motherhood, Rebecca Walker claims, has given her the purpose and identity she longed for: "I feel like I have arrived in myself to where I want to be and who I want to be," Ms. Walker says. "Motherhood is the first club I've unequivocally belonged to."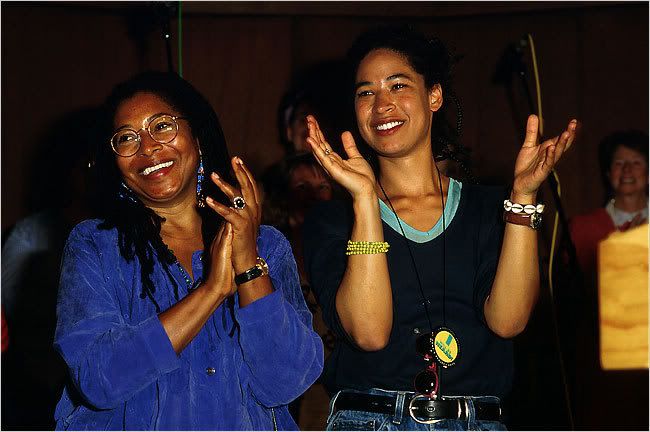 Rebecca Walker is convinced that she was harmed by her mother's choices. The younger Walker accuses her mother of leaving her with friends and neighbors a lot while she (mother) went off to write or fight some cause; and she failed to understand  that Rebecca's promiscuity and abortion at 14 was her way of pleading for her mother's love and attention. The public battle between a daughter and her iconic mother (the mother who ironically penned the now classic "In Search of Our Mothers' Gardens")strikes me as terribly sad. "It's like listening in on a dysfunctional family therapy session—painful, but oh so fascinating," says one friend. 
Not surprisingly, the younger Walker is harder on her mother than her father for what she sees as the deprivations of her childhood. And while she seems intent upon proving in Baby Love that she is prepared to do what needs to be done to be a better mother than her mother was, what Rebecca Walker ends up really proving, unintentionally of course, is that she's good at playing the dozens and using her mother to score points for herself.
For all her complaints about her mother's choices, one thing is clear: the daughter is obsessed with duplicating her mother's life. Like Alice Walker, Rebecca Walker is a writer and a feminist. And like her mother who was once involved in a lesbian relationship with Tracy Chapman, Rebecca Walker is bisexual who for eight years was involved with musician Meshell Ngedecello. (By the way, Rebecca Walker lives now in Hawaii with Glen, Buddhist teacher and African American father of her son.) Independent with strong opinions like her mother, the younger Walker is determined to prove herself to be the better feminist, mother, and writer even it it takes exposing her mother's failures, repudiating her mother's feminism, and using her mother's fame to carve out a name for herself.
Outraged at her daughter's characterization of her in Black, White and Jewish  Alice Walker dashed a string of blistering emails off to the younger Walker a few years back (says the younger Walker) that ended with the mother cutting her daughter out of her will and signing one of her final emails to her daughter with the words, "I resign as your mother." Not to be outdone, Rebecca Walker responded by writing Baby Love.   
Talk about drama. Move over Jerry Springer. Take note on how the rich and famous do things. Publish your version of the story.
Looking back there are probably some things Alice Walker the mother wish she had done differently. But here's hoping for the younger Walker that the the reality of mothering lives up to whatever fantasies she has about being a mother. And that the constant giving, sacrifice, worry, and putting on hold one's own dreams that comes with being a mother provide Rebecca Walker the lens she needs to be able to look back on the failures, ambivalences, and cruelties of her iconic mother with perhaps a little more compassion and empathy.
Someone on another website who identified with the younger Walker's views and confessed to being around Rebecca Walker's age left this comment: It must be hard being Alice Walker's daughter.
As a mother who knows what it means to have a wild, irrational love for your child but catch yourself staring out in space from time to time and wondering "what if", I say: 
Touch your neighbor and repeat after me: "It must be hard being Rebecca Walker's mother."