Wednesday, May 27th, 2009
Why, Mr President, you sly fox. Nominating Judge Sonia Sotomayor to the Supreme Court bench. Impressive candidate. Smart move. But what's this? Women as scapegoat for power struggles between political parties.What am I saying? That's nothing new. It's been happening for centuries. Before we were being passed back and forth as daughters,  wive, and concubines of powerful men. Now powerful men are nominating us for the political offices themselves. We've come a long way baby.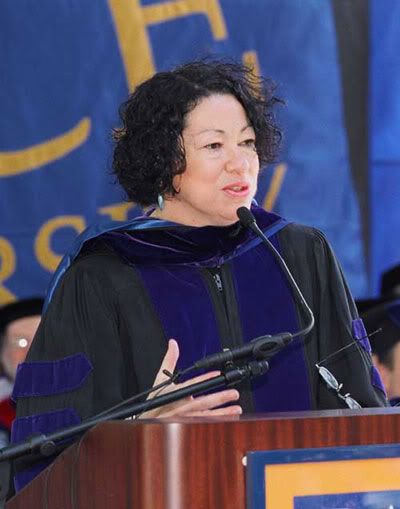 Sotomayor has been hailed as "a role model of aspiration, discipline, commitment, intellectual prowess and integrity" for her ascent to the federal bench from an upbringing in a South Bronx housing project, and as "one of the ablest federal judges currently sitting" for her thoughtful opinions. Everything you need to know about the new Supreme Court nominee can be found here and here.  I'm getting teary-eyed just reading  the story of her "rags-to-riches" journey out of the South Bronx to a federal judgeship. On first glance she looks like a great nominee for the highest court of the land.
But it seems that the GOPs are not having it. What they're saying is nasty, and it sounds as though they're going for blood. I can barely watch the ads. I won't dignify the ugly things said about Judge Sotomayor's intellect by repeating them here on this blog. Rove. Limbaugh. Turley. Pitbulls. Vicious. Ugly. Disgusting. Meanspirted. Racist. Sexist. Elitist.
Beige people (and brown and black people) unite! Seems like latinos are about to get a r-e-a-l taste of racism in America (not that you haven't experienced racism before now).  You're about to see what happens when beige people start wanting to trespass on country club lawns without a weed eater in their hands or a towel on their arms! The Old Guard ain't playing!  They are fighting to preserve power in their hands.  I just don't believe that what's being said about Judge Sotomayor's intellect and person is anything we'd likely hear said against a male candidate, latino or otherwise. You're right: discrimination is discrimination. But, sweetheart,  Sotomayor is a woman, and if this last Presidential campaign taught us anything, it taught that women are fair game. And, of course, the GOP is counting on the fact that women are so divided by their racial and physical differences you don't have to worry about women coming together to launch a counteroffensive.
I'm dying to hear what everyone else thinks about Sotomayor's nomination. (I'm especially interested in hearing from those of you who are not feminists and up to now have not been able to perceive when rank sexism is at play and are clueless as to how to combat sexism when it rears its ugly head.)