Thursday, July 30th, 2009
Sometimes you just gotta know when it's time to stop, kick back, and let others knock themselves out trying keep up with all the deadlines and obligations.
The time has come for me to face the reality that I can't keep up this frantic pace that I've been living. Blogging is going to have to take a backseat in my life.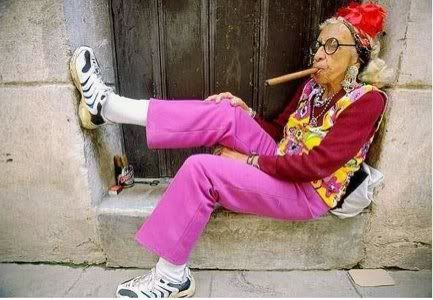 I can't continue travelling and speaking, while maintaining a blog, helping out with pastoral duties at my local church, working part time as an academic consultant, desperately hoping for time to write books and articles, squeezing in time for my new passion (quilting), all while being a mommy and wife to two wonderful, but demanding people who despite my protests never fail to ask "Is there anything at home to eat?" Some days it's easier than others trying to do it all. Many days juggling is a nightmare. Yet I'm thankful to God for the problem that I have. I'm glad to have work to choose from.  All of it work I absolutely love.
But it's time to make the difficult decision to step back from blogging. I won't be blogging  here on Something Within as often as I have in the past. In my more insane moments I've tried bang out 3 blogposts a week. In my less insane moments it's been 2 blogposts a week. From now on I'll be blogging when something comes up that begs for Renita's spiritually offbeat two cents. Instead of following  CNN's newswire, I'll be following my spirit.
I started this blog over over two years ago in the wake of Don Imus' racist and sexist remarks about the Rutgers University Women's basketball team. As black woman and a HUGE fan of women's basketball and as someone who had followed Vivian Stringer's 2007 team to the finals that year, I needed a platform to air my outrage not only at the racism and sexism embedded in Imus' remarks. I needed a platform to call black women out for seeming to be more upset about being labeled "nappy headed" than being called "hoes."  I needed a platform other than the pulpit for examining the various intersections and collisions that take place between race, gender, sexuality, politics, class and religion in popular culture.  I'd maintained a website for years, but I needed something more interactive once I felt the urge as a clergy woman and bible scholar to weigh in on popular culture.  "Try blogging," my 20something year old devotees urged. And I did. I took to blogging like I do everything I set out to learn: with passion. (Hey, I'm a passionate woman. What can I say?)  Interactions with commenters, readers, lurkers, and other bloggers spurred my writings, energized my thoughts, and frequently inflamed my passions. Just as I said in a previous post:
You don't grow by talking to people who think like you do. You grow as a thinker, and even in your beliefs,  by talking to people who make you want to scream and make you want to throw something at the [computer] when you [read what they have to say]. They teach you how to calm down long enough to think. Think about what you want to say, how best to say what needs to be said, and why you feel you must speak up.

You can sit there and stew and tell yourself that it's a waste of time to enter the fray. Or, you can leap in and join the town hall meeting, public discourse, the rough-and-tumble world of shaping public opinion.
(See what I mean? You know it's time to throw in the towel when you start quoting yourself in your blogs. LOL.)
To tell you the truth, I miss writing books. Fortunately, there's lots here on the blog that can be turned into a book. If I had the time. When I look back over some of the posts I'm downright proud of what I find. "Girl, you wrote your butt off on that one," I smile and say to myself.  "As for this one over here, you were obviously in a hurry." If only I had the time to convert this or that post into a book or chapter, I've bemoaned over the last couple of months. The time has come for me to do just that.
I invite readers to thumb through the index and (re)read up on what's here. Drop me a line letting me know which are your favorites and which you'd like to see turned into a book. Maybe I'll do just that. Don't overlook the comments. There were plenty of times when I really didn't speak my mind in full  until I was pushed by something that was said by one of you in a comment. Thanks to all my devoted readers, and special thanks to those of you who took the time to stir the pot by leaving a comment.
Listen: I'm not shutting down the blog. I'm just stepping back from blogging on a regular basis. And while I'm at it I'm releasing myself from feeling pressured to live up to my readers' expectations that I weigh in on every racist, sexist, dumb, unjust, painful, shameful, idiotic, and wrongheaded thing going on in society, whether it has anything to do with religion and church or not. I will continue to blog when I have something to say and have the time to compose my thoughts. I've invited a few friends and colleagues to come over and be guest bloggers from time to time here on Something Within. Some have even agreed. (Wink. Wink. There'll be a guest blog this coming Monday.) If you're a writer, and if you're a long time fan of Something Within and are familiar with the tone and topics covered here, and you want to try your hand at writing a guest column on the blog, let me know soon.
So continue dropping by the blog. Better yet, subscribe to this blog's news feed so you can know instantly when the blog is updated and when I've come back on to insert my two cents on a topic everyone is talking about.
In the meantime, that's me in the photo above. Chilling. Praying. Kicking it. Observing. Reprioritizing. Letting the young 'uns run around in a panic and pissivity about something someone said or did. Me? I'll be doing more listening than talking.
Listening for God, in fact.