Some of you probably dropped by the blog today wanting to know what I have to say about last night election's primary results which put Barack Obama across the Democratic finish line with 2,154 delegates.
Let's cut to the chase.
You're probably wondering what the only (or almost only) black woman in blogosphere who's openly admitted to being a Hillary Clinton supporter thinks here the day after it became clear that her candidate had failed to meet the delegate quota and also failed to graciously bow out the race when she had a chance.
Here's what I'm thinking.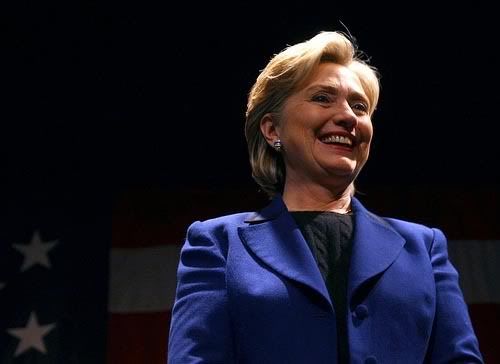 First, let me congratulate Barack Obama for winning the Democratic nomination. With Obama's victory, he becomes the first African American to win the nomination of a major political party and opens a new chapter in American history.  Obama was not my presidential choice, and I can't imagine being nearly as emotionally invested in the November election and as I have been in the primaries, but I will gladly vote for Barack Obama in November because I believe that the alternative is absolutely unacceptable.
Secondly, I HATE LOSING.
Third, I hate losing the chance to see a woman in the White House. And if you're wondering, the answer is no, I am not one who would be enthusiastic about an Obama-Clinton ticket. No! 
Fourth, now I know what I always suspected, namely that while racism is a sin, sexism is perfectly acceptable and tolerated in this country. Women are the worst culprits. The outright woman-hating jibes, the prejudice against Clinton as a middle-age woman, the physical mockery, and the anti-white woman rage have not been easy to witness. Clintonhas not run a faultless campaign– far from it. (Her surrogates need to be fired!) But Hillary Clinton the woman and the politician did not deserve the venom, the acrimony, the hatred, and the name-calling commentators and the public heaped on her throughout this race. 
Fifth, I admire the heck out of Hillary Clinton. And her campaign has done a lot to pave the way in the future for women with equal political ambitions. Even though I haven't always been pleased with her campaign decisions, I've admired Clinton's strength and her resolve. She's tough, she's competitive, she has heart, and she couldn't have been anything less to have survived the ashes heaped on her and the lacerations she's suffered as the first woman. But she lost the bid. Now it's up to her to figure out how to bow out graciously and on her own terms. I support her right to deliberate and take her time. Afterall, it ain't like Obama won by a landslide and goes into the next phase of the election with a mandate. Eighteen million citizens voted for Hillary Clinton, and she has the right to parlay those votes into some promises from the Democratic Party.  That's how it's done.
Sixth, the one important thing that has come out of Clinton's defeat for me is what it's taught me about black women– and about myself, for that matter.  This campaign held a mirror up to a side of myself that I no longer want to have anything to do with. The harsh, irrational, and ugly things black women have said here on this blog and elsewhere about Hillary Clinton "and women like her" remind me of an old self. A self I walked away from when I left academia a few years ago. A self I'm not particularly proud of.  Black women spend waaaay too much energy hating distrusting white women. There are admittedly historical reasons for this distrust. But, girl, does it drain one's energy. Not to mention how self-defeating it can be. It causes us to miss opportunities to build strong, powerful alliances with other women. We spend a lot of energy and time distrusting women who don't spend nearly as much time thinking about us as we spend thinking about them. Ouch! Hating, excuse me, distrusting white women for their whiteness. Their white privilege. While at the same time coveting that very privilege. 
Take SATC, for example. Many of the same women gushing over SATC and admitting to identifying with Carrie, Charlotte, and Samantha 'em with all their chic, anorexic, upper-class, materialistic, shoe-obsessed, sex starved obsessions are totally scornful of Hillary Clinton's tenacious, audacious, middle-age, sexless, resolve and ambition. Maybe if Clinton were younger, prettier, thinner, she might have had a chance with women. She forgives her husband of his philandering and she's a scheming shrew. Samantha 'em give their philandering lovers in "Sex and the City" a second chance and these women are sexually empowered goddesses.   
Did I mention that we're hard on women? We forgive Obama for dumping his black pastor and black church for a chance at the presidency, but skewer Clinton for calling on her white support in the final weeks of her campaign. We forgive men but spit at women for the same transgressions. Something is wrong with this picture. 
And while I'm at it, (you asked what I was thinking) here's something else that would be laughable if it weren't so sad. Black women are turned off by white women like Hillary Clinton but are willing to conveniently overlook that her bi-racial opponent whom we've put our trust in was raised by a mother and a grandmother who have more in common with Hillary Clinton than they do any of us.
We've come a long way, baby. And we've got an even longer way to go as women if we want to make a dint against the racism and sexism we battle internally and externally every day.
Finally, I hate losing but there's a lot to be learned from losing. Like how to wrestle much needed information from defeat so you can start over, and, if you're a woman, smile and look gracious while you're doing it.