Special thanks to Jessica Davenport, a 26 year old recent graduate of Emory University Divinity School in Atlanta, for stepping in and contributing this special guest column today here on Something Within.
************************************************************************************************
It's Sunday and the clock on my nightstand reads 11am. Typical church hour. I swiftly divert my eyes away from the clock and back at the novel I'm reading, pretending not to notice. "You ain't missing nothin," I grumble out of the side of mouth as I turn the page.
And there you have it: my Sunday morning ritual. Instead of squeezing myself into pantyhose and my "Sunday best" and rushing out the door like I once did, I spend the morning trying not to think too hard about where my relationship with the church went wrong.
But given that most 18-35 year olds are missing from Black churches across the nation, my absence isn't really all that significant. Except that I'm a licensed minister.
I'm a minister who just spent 3 years in seminary writing papers attesting to the prophetic tradition of the black church, but who can't seem to will herself to step foot in one these days.
And no, the reason I'm not in church is not because seminary, or rather the academic study of religion, somehow "took my Jesus away." Actually it was the other way around. I gave up Jesus (or rather, my traditional, Baptist-bred beliefs about him) before I went off to seminary. It was seminary that kept me from giving him up altogether.
The major reason I've gone AWOL from pursuing ministry is because I've become ambivalent—wait, "ambivalent" is an understatement—I've become downright disgruntled with what it means to be a black woman in ministry these days. So, I've decided to take my work with young people, particularly black teenage girls, elsewhere.
Truth is, my frustration has been mounting for sometime. Perhaps the straw that broke the proverbial camel's back occurred at women's conference I attended a year ago. This particular conference, organized by some senior women in ministry, was held on the heels of the Juanita Bynum beating and the torture of Meghan Williams. To my horror, there was no organized, intentional response at this conference to the rampant violence against black women that pervades this nation. In fact, not a word was spoken about either of the two cases, save a couple of panelists who had no other choice but to respond to a question about the incidents that was posed during an open Q&A session. That was enough to make a black woman in the church like myself snap her neck and wonder, "What gives?!" Have we really become so beholden to the same recycled conference topics that we can't organize and speak out about urgent, relevant issues that are literally killing black women in mass numbers?
This is not to wholly dismiss the importance and impact of the topics that are typically talked about at these conferences, like our personal relationships with God and how to build wealth. But, honestly, how can we talk about such topics in isolation of the larger social and political issues of our day and still claim to be prophetic?
But let me be clear: This is not a rant against my immediate foremothers in ministry. At least not entirely. They have followed in the historic tradition of Julia Foote, Ida B. Robinson, Pauli Murray, Prathia Hall Wynn and other "Daughters of Thunder." It is because of them that there is not only a gaping hole in the proverbial stained-glass window, but we are able to have annual meetings called "women's conferences" because of their vision.  In many ways, they were first to bring issues concerning women to a national platform within the black church. And for this, we should all be eternally grateful.
So, perhaps this confession is less about what my foremothers in ministry are (or aren't) doing. This is more about how their legacy is being carried forward by those in my generation. I'm talking about those of us who find it relatively easy to navigate through the rough gendered terrain of ministry. And when it hasn't been so easy, there have been enough women in ministry with us to have a strong support system to lean on. We have reaped the benefits of our foremothers' struggle, but we have been slow on the uptake when it comes to making our presence in the pulpit a collective benefit for the women we minister to. Instead of making sure that social issues that impact black women and girls are central to conference agendas, we simply put a new twist on the same topics that have been talked about for the past 20 years. We allow men to continue to set the larger agenda for the black church while we act as if we are mute, content to just have a seat at the table. Instead of prophetically preaching against the systemic oppression of women in our communities and the silence that surrounds it, we preach prosperity gospel-laden sermons, afraid to jeopardize our growing celebrity on the preaching circuit.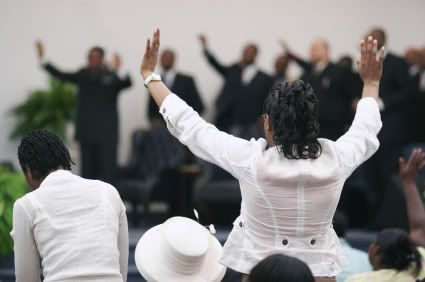 It's important to acknowledge that there are many older and younger black women in ministry who have been breaking with this mold. These are women in ministry who have chosen to walk off the beaten path and courageously cut themselves a new one by boldly tackling issues like HIV/AIDS, violence against women, and the sex trafficking of girls. But these women often do ministry in isolation and without the camaraderie and collective backing of other black women in ministry.
This morning I woke up wondering when the "Deborahs" among black women in ministry will come forward. Those observant, perceptive women who know instinctively what to do when there is an attack against their people. Women who know that these types of attacks require more than a workshop or a plenary session; they require sustained, organized, collective action and their willing to put their heads together with women community leaders and activists to come up with offensive tactics. I'm also wondering where the "Esthers" are. The women who have power, influence and a seat at the negotiating table. Women who are willing to speak up and use their influence to lay out a new agenda that includes issues that threaten the lives of black women. And as a young'un in ministry, I'm searching for the "Ella Bakers" (not a woman in the Bible, I know, but a fierce woman all the same). I'm looking for women who take seriously the voices and ideas of younger women in ministry and who are committed to helping us strategically channel our energy (albeit youthful angst) in constructive, empowering ways.
This wouldn't be a full confession if I didn't admit to being part of the problem. Instead of hanging in there, I've chosen to pick up my equipment and leave the field too soon. It's hard to make a difference when you're shouting from the sidelines. Not to mention, my critique sounds like a temper-tantrum when there are so many trailblazing black women in ministry who are faithfully remaining true to their prophetic work without collective support. Their witness compels me to prepare to gird my breasts, sharpen my game and get back out on the field.
But in the meantime, I'm offering these confessions. And for now going back to reading my novel.